Journal
Shifting Sands – Larusi's new collection of rare vintage Tuareg rugs

Unveiling the Shifting Sands Collection

Larusi, synonymous with excellence and curated aesthetics, introduces a remarkable ensemble of Tuareg rugs that resonate with the echoes of history....

read more

At the heart of these rugs lies a rich heritage, meticulously nurtured over generations. Nomadic tribes, traversing the expansive Sahara Desert, wove these mats with dedication and...

read more
"...the three rugs are PERFECTION in their Scottish home. LOVE"

Tilda Swinton

Conversations in colour – Shades of Morocco 2020

Turmeric, saffron and sandy hues meet clay, dusty rose and shell pink in Souad Larusi's installation of vintage tribal textiles, which is inspired by the colours of her native Morocco....

read more

Before Corona struck Souad Larusi spent much of her time travelling between London and Morocco, sourcing rare and unique rugs, throws and wall-hangings. A longing for the warmth and vibrancy of...

read more

...the collection includes weavings by the Tuareg people, a Nomadic tribe from the Sahara Desert, living across an area that covers parts of Mali, Niger, Libya, Algeria and Burkina Faso. These...

read more
"Larusi has long been a mecca for high-quality antique and bespoke Berber rugs. Now it's set to be the place to go for gorgeous linen bedding with that slept-in look..."

World of Interiors

Every Tuareg rug is unique and carries a story of the weaver and the tribe. The rugs are both functional and beautiful, often featuring hand-stitched embellishments that demonstrate the skill of...

read more
about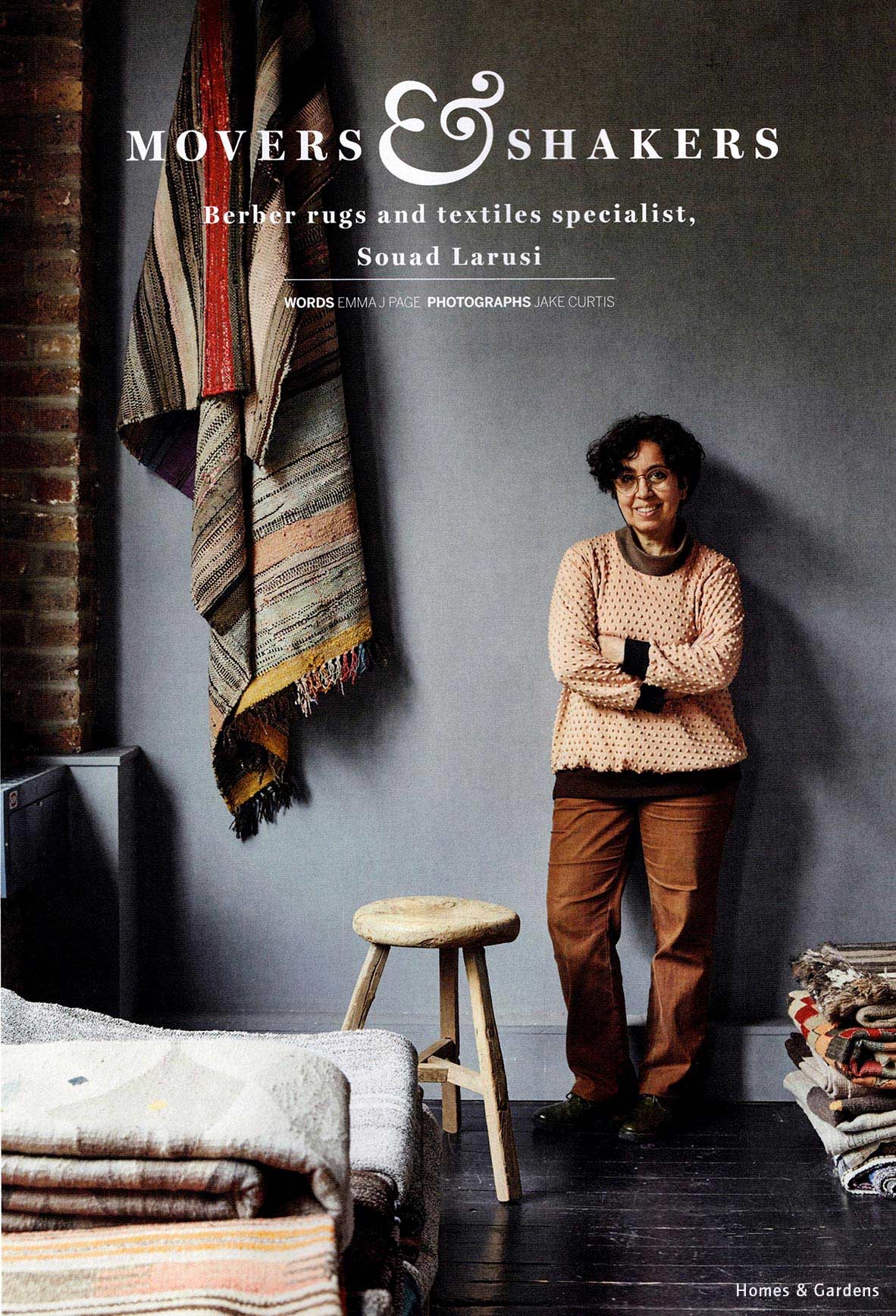 …To many a Larusi rug has become the eponym for high quality Berber Beni Ouarain rugs…
Larusi tribal rugs and textiles was set up by Souad Larusi in 2000, specialising in the weavings of the Berber tribes of Morocco to bring them to a wider audience and to encourage their use for interior decoration; the rugs, although of humble provenance, are crafted from excellent quality wool, with subtly variegated designs that look uncannily modern to contemporary eyes.
Her curiosity for well crafted textiles and weavings led to more discoveries and the collection now holds a range of unique textiles from all over the world.
The bed linen range introduced in 2012 brings a similar informality to sleeping textiles, being pre washed and a bit crumpled, ease of care is added to linen's well known qualities of durability and breathability, making these linen sheets a truly informal luxury. All linen is thread dyed in colour ranges unique to Larusi.
Souad continues to source new and exciting home accessories, her keen sense for genuine craft, colour, texture and the haptic qualities of each product guiding the way.
appointment
clients
Ace Hotel, London

Aesop
, London
Art Partner
Alice Eve
Barbara Broccoli (OBE)

Boyarsky Murphy Architects
Daylesford
Dezeen

De La Espada
Ditte Isager

Erdem

Faye Toogood
Helena Morrissey

Ilse Crawford

Jenny Packham

Kranzbach Hotel, Germany

Lanvin
Living Rooms

London Review Bookshop

Margaret Howell

Martyn Thompson

Matchesfashion.com
Michael Maharam


Metropolitan Wharf

Mondrian Hotel, London

Nate Berkus Associates
Nick Haddow
Paul Epworth
Paul McCartney
 (Sir)
Perfumer H

Peter Doig

Philippe Malouin
Rebecca Warren (OBE)
Retrouvius
Research Design Studio - Tom Dixon
Soho House

Studioilse

Studiopepe
Touch Digital

The Apartment
The Modern House

Tilda Swinton

Tom Ford
The Zetter

Universal Design Studio

Vitsoe

Vitra
contact
[email protected]
Studio 18, The Dove Centre,
109 Bartholomew Rd,
London NW5 2BJ, UK.

Our studio is on the 2nd floor of the Dove Centre, a Victorian warehouse building with a rear courtyard for client parking.
Stair access only.

Contact number:
+44 (0)20 7150 9910
[email protected]